Spain is a great place for anyone with an interest in birds and Extremadura's birdwatching fair, FIO, will be held from February 24 through 26 this year. I was fortunate enough to get to attend the 2016 event last March and I had a great time. While I'm no bird expert, I do enjoy photographing a wide range of subjects — birds included — and it's always great to hang around with a bunch of people who are passionate about something. Plus, spending a great deal of time in the Extremaduran countryside ain't bad either. For those unfamiliar, Extremadura is a beautifully wild region of Spain lying west of Madrid and east of Portugal.
We started our bird-watching experience at the Castillo de Monfrague in Monfrague National Park, which offers panoramic views and a great platform for watching the large raptors that inhabit the area.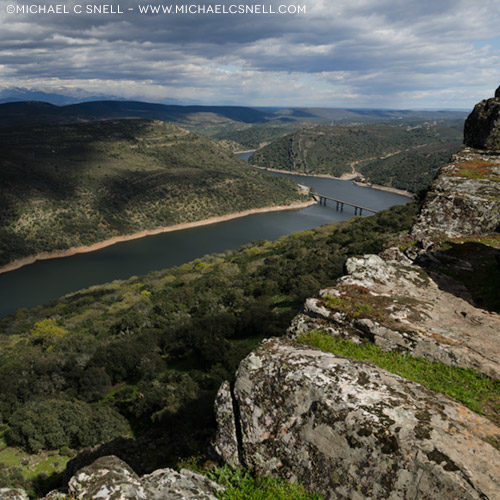 Much of the surrounding landscape is what is called "dehesa," a kind of pastureland with widely dispersed trees — typically oak. The overhead view provided by the Castillo's high perch helps illustrate what it looks like: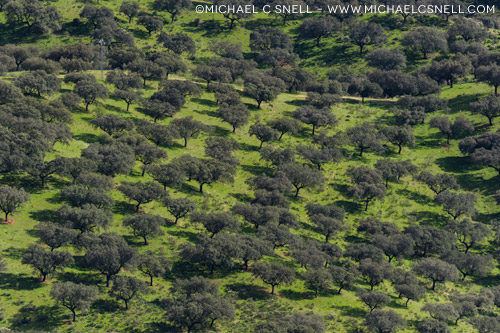 As the air begins to warm in the morning, various large raptors — including Griffon Vultures — begin riding the thermals. Again, the castle provides a perfect viewing platform as they spiral upward and overhead. I had the opportunity to photograph them from below, from eye-level, and from above as they would swoop back down to their nests in the cliffs below.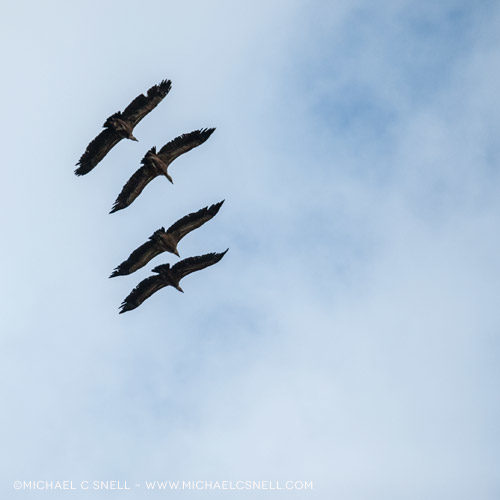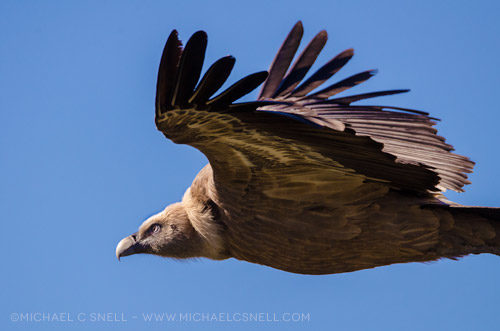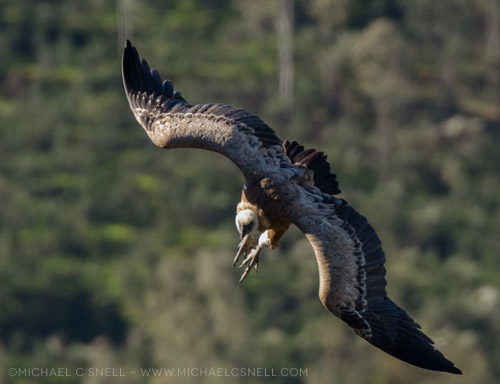 As large and close as these birds were, I was still happy to be testing out the then-new Tamron 150-600mm lens. A second generation has since been released, but I found little to fault with my original version and I especially appreciated the Vibration Control that allowed me to hand-hold all of these shots.
Down in the valley, we also spotted Black Storks. I can't think of many creatures I've seen that look more prehistoric than these colorful birds.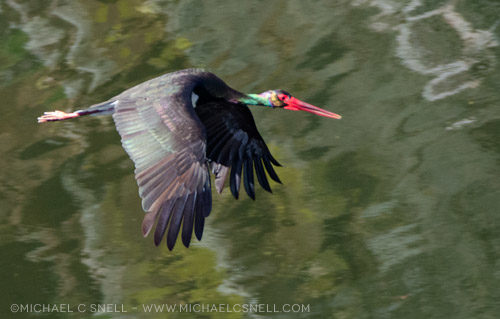 And, of course, we would see plenty of White Storks as well. These inhabit nests found on many of the rooftops and chimneys in Extremadura and are hard to miss due to the clattering sound they make with their bills.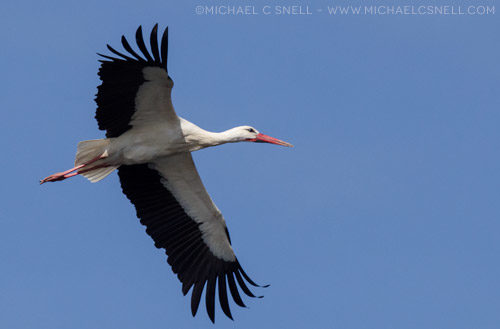 Not all of the birds were large. There were also plenty of smaller varieties, too. Below are a Thekla Lark, a pair of Crag Martins, and a European Goldfinch. I hope I have these names right — if not, it's no reflection on my very knowledgable guides but my own inability to retain information!: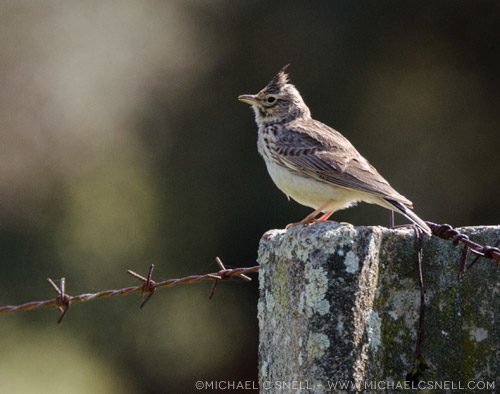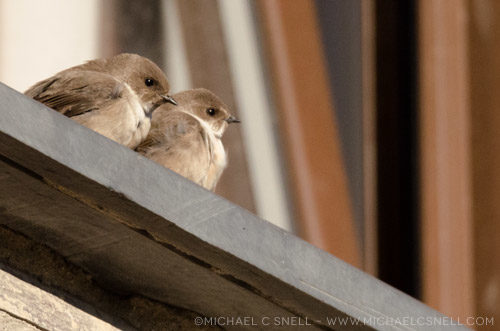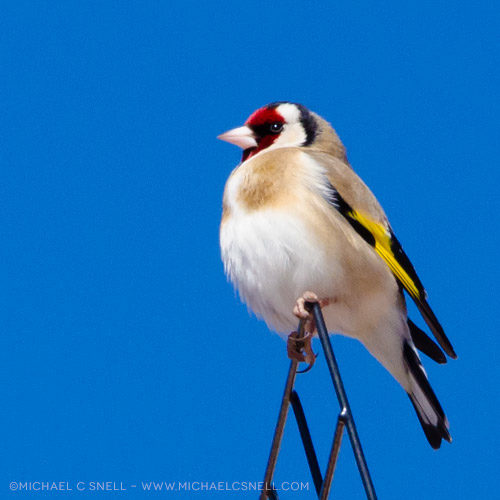 To be honest, the smaller birds were much harder to capture at the pace at which we were traveling. Their movements were much swifter and it is really best to wait out in a spot and let them come perch near you. Still, we managed to log quite a few different species as we roamed the countryside.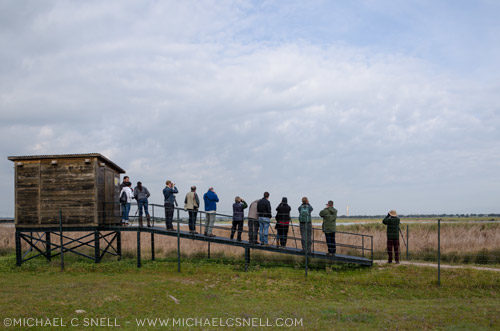 That's a few of our gang of birders, photographers, and birding tour operators on the lookout for the next bird-of-interest. I truly enjoyed hanging out with these folks and learning more about the birding opportunities in Extremadura. The fair (FIO) comprises a sort of "tent village" with stands that feature information about birding in the area, gear for birders and even birding-related arts and crafts. There was a very impressive show of bird photography as well. It's a great event for those with such an interest.
I'll never see the landscape of Extremadura in the same way again, now that I know that it is home to so many diverse species of birds. I now notice that the sky is seldom empty in this part of Spain and my eyes will continue to glance upward to see who is overhead. I'll leave you with one more landscape shot of the region we were exploring, and I'll follow with a post about some of the villages we encountered along the way.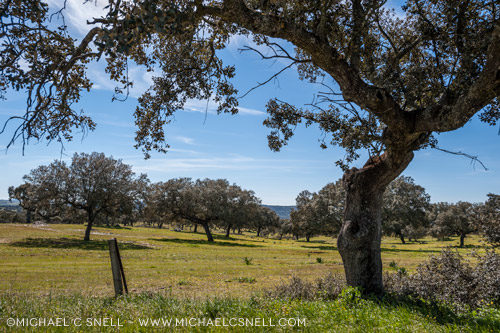 Filed under: birds, landscape, lenses, photography, spain, tourism, travel, wildlife
|
Closed
---