Archive Page 2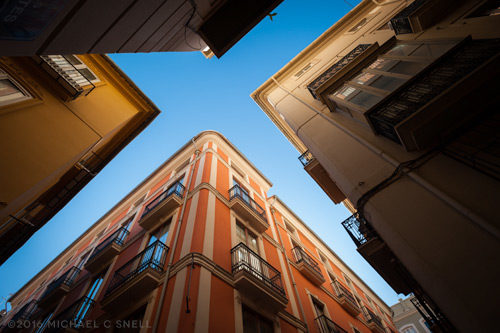 After my visit to Valencia's Central Market, it was time to hit the streets again on our way to Paella School where we would make our own lunch. As usual, there were plenty of visual distractions along the way, sometimes just in the form of creative graffiti adorning the walls along the narrow streets.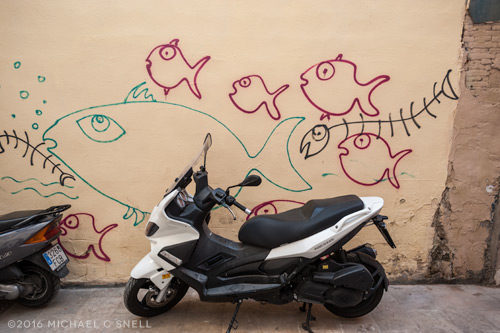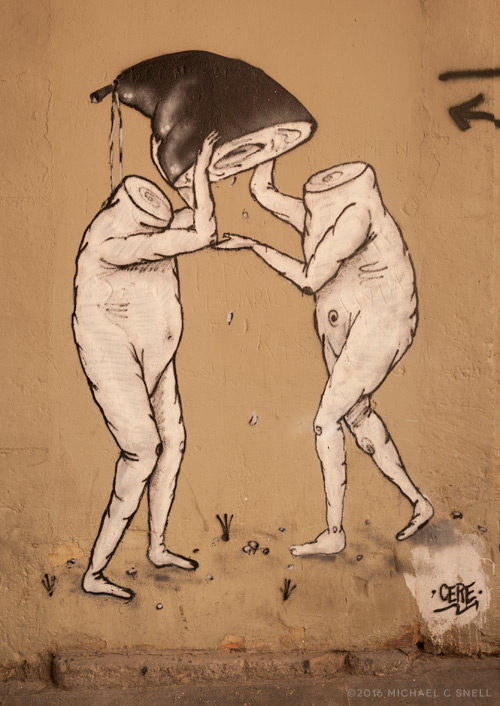 Other times the distractions came in the form of window-peeping on shops and artisans at work: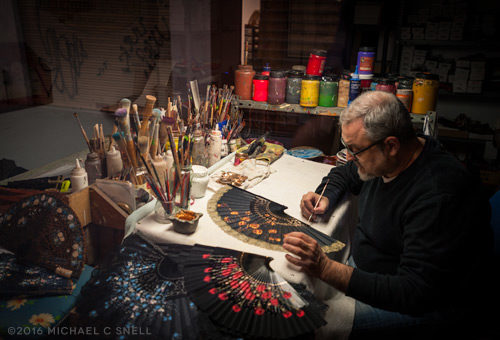 Finally, it was paella-making time, but I was once again distracted by making photos. Luckily, I still got to sample the finished product. If you're into food and love getting hands-on with its preparation, this is an amazing program to take part in.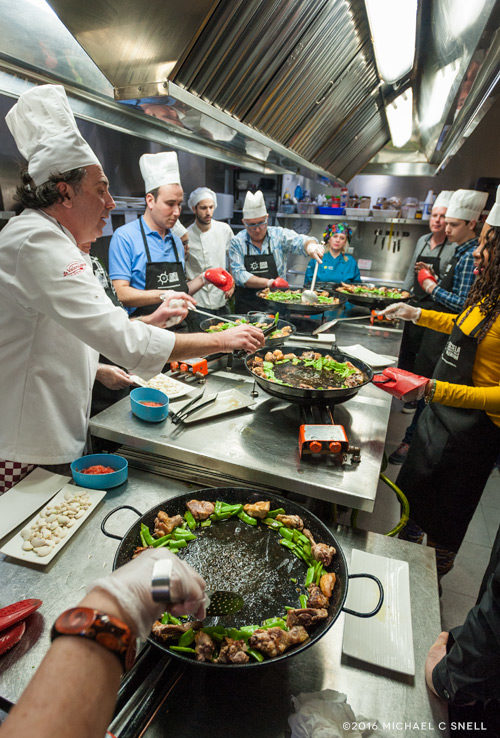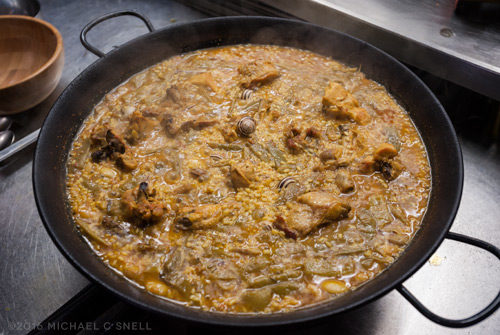 With a full belly, it was time to work off that paella with a bike tour through the old city and down the former river corridor that has been transformed into gardens dotted with impressive examples of modern architecture. More on that in a later post (the modern architecture) but here are a few shots taken along the system of avenues and bike paths that got me there. The last shot in the post is of one of Valencia's old city gates.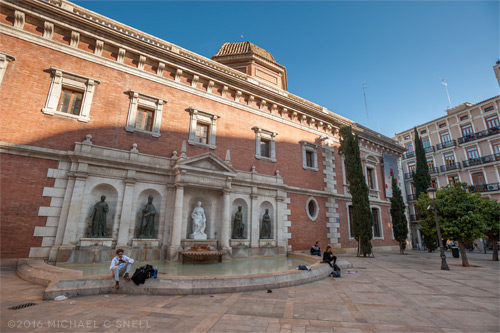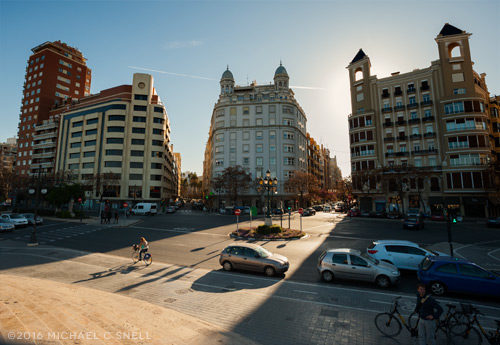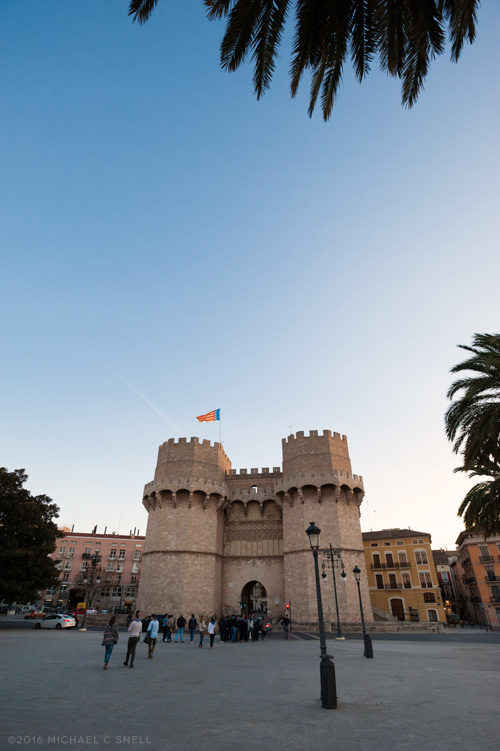 Filed under: architecture, food, spain, travel
|
Closed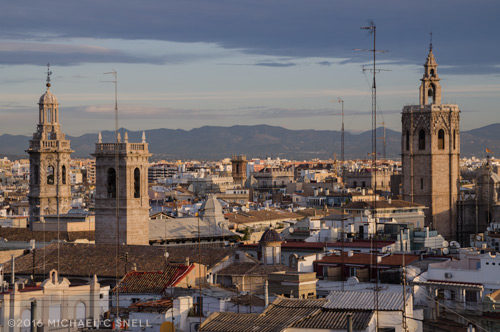 The morning of my first full day in Valencia began with breakfast on the upper floor of the Astoria Palace Hotel, which had a great view overlooking the historic center of the city. Next, we walked a few short blocks to the Mercado Central, Valencia's central market. Along the way, marveling once again at the architecture, and the inclusion of "dog parking" outside some of the shops.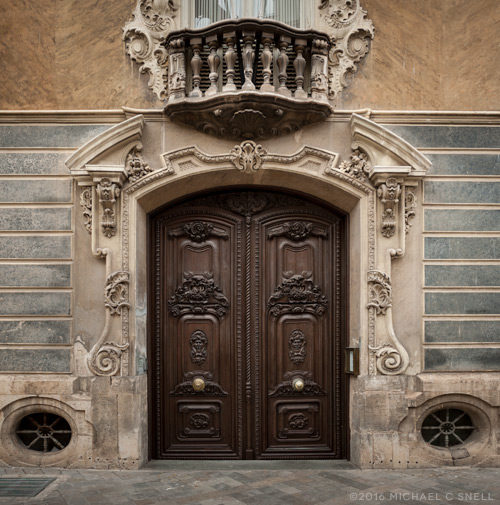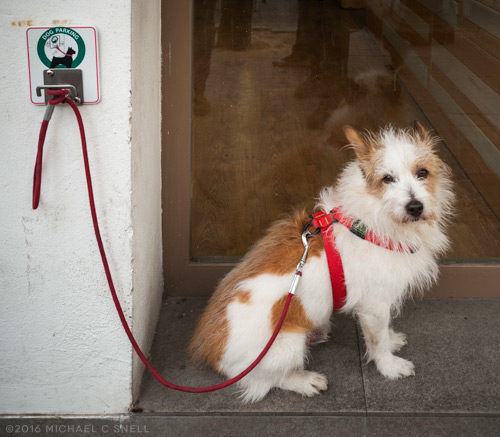 On to the market itself: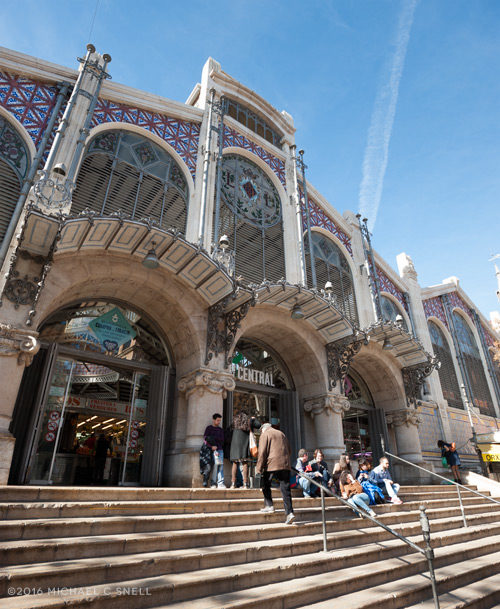 Markets are always among my favorite things to visit and photograph in any location. I love seeing the different produce available and it is always guaranteed to be a colorful display. This market was no different and did not disappoint.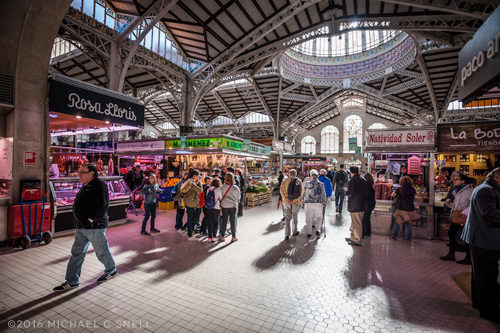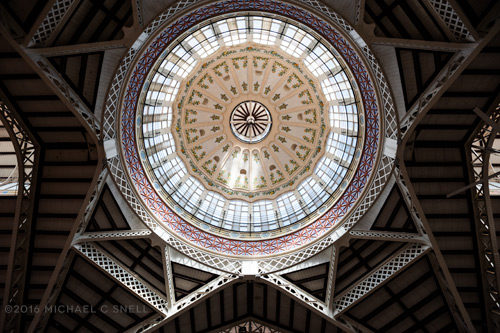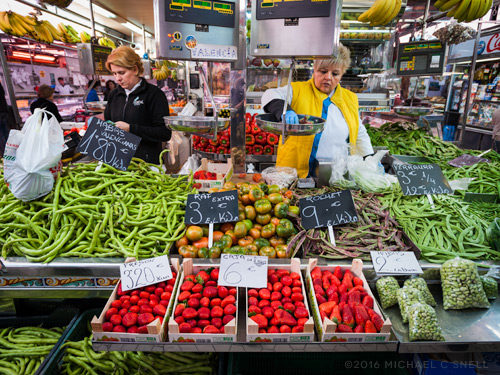 I even had a chance to play around with the new Tamron 90mm macro lens that I had been loaned for this trip. It was a joy to use and gave great results. I may have to look into adding one permanently to my bag: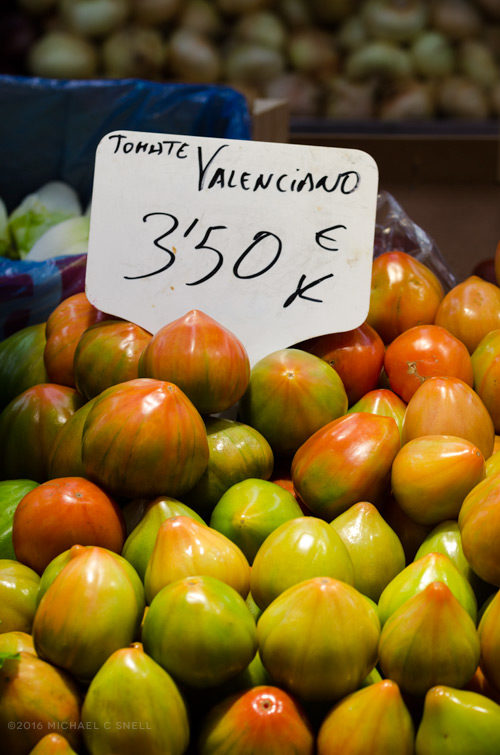 Next, we would take some of the ingredients we had found at the market and visit a paella school to make our own lunch (although I admit to doing more "photographing" than "helping" when it came to the actual cooking). Next post…
Filed under: architecture, color, food, spain, Tamron, travel
|
Closed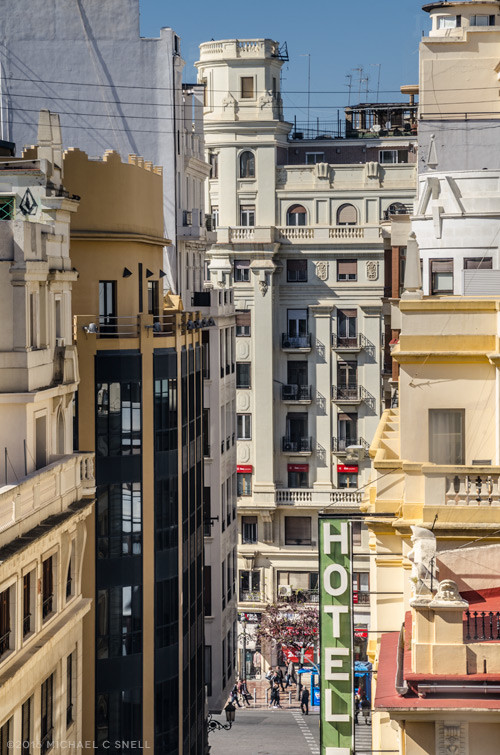 It's hard to believe that it has been almost two months since I returned to Spain to see the city of Valencia during the early days of the Fallas festival, but it has. That visit ended up being extended with a birding expedition in the west of Spain, and was followed just a week later by a trip to China. I'm back in the office now, sifting through images and prepping files for stock agencies. As I progress, I'll re-tell the stories of these trips here in this blog.
On Day One, I landed in Madrid first thing in the morning and (barely) caught another flight to Valencia, arriving and getting checked into my hotel right around noon. The image above is the fifth frame of the trip, shot from my hotel room window as I was getting my gear re-packed for the afternoon's adventures. First stop would be my first Mascletà, a daytime fireworks display that occurs every day during Las Fallas, a traditional celebration honoring St. Joseph held every March in Valencia.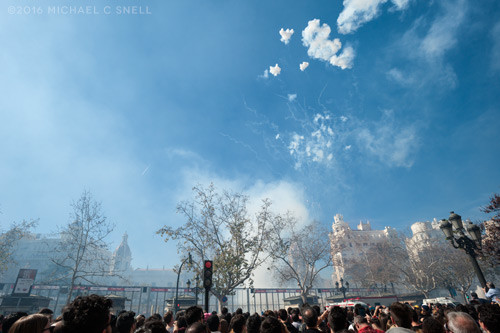 Blame it on jet lag, or just my own lack of creativity, but I am still struggling to figure out how best to shoot daytime fireworks. The display is incredible, don't get me wrong, but it really is more about the sound and the concussive force of the blasts than the visual experience. The other major part of the spectacle is the crowd itself. It seems that every human in the city comes out at 2:00 for the show. And just as quickly as they arrived, they disperse. With the Mascletà over for today, it was time to explore the streets and get my bearings.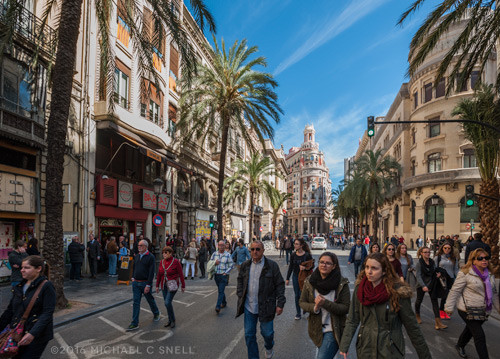 Valencia's architecture instantly stood out to me. While I suppose there is such a thing as "Spanish architecture," I have come to the conclusion after having visited 5 times now, that each region and city has it's own style. Valencia felt very exuberant and the numerous palm trees gave a very tropical feel to this city on the Mediterranean. I was closer to France here than I had been on most of my previous visits and there is perhaps a more European feel to the architecture and layout of the city than in the more Moorish influenced areas of the south.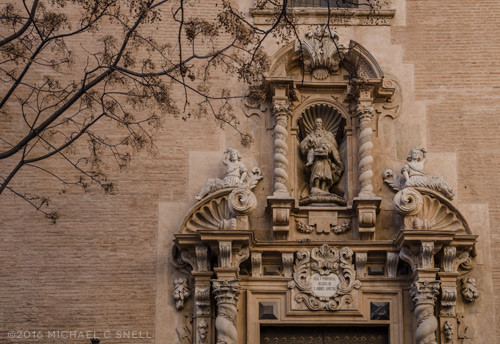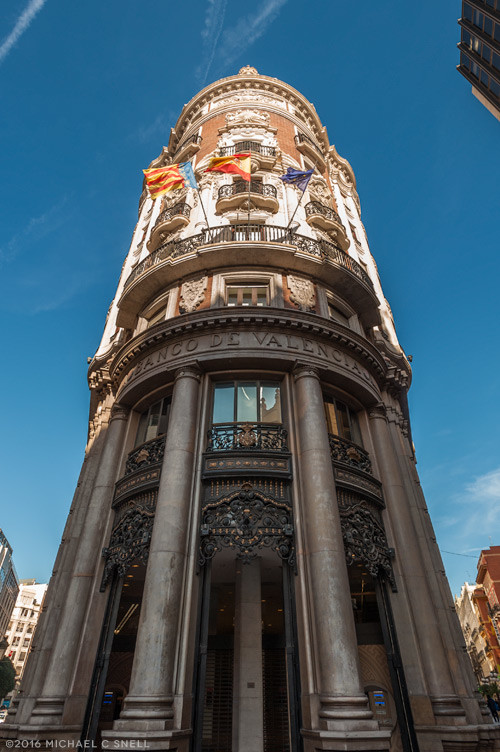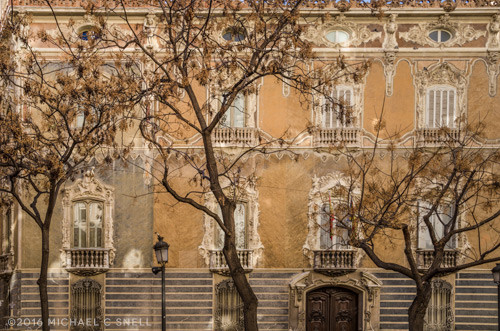 I typically don't feel like I accomplish much on my first day in a new location, but it felt as though it would be difficult to take a bad photo in this beautiful city. I still managed, but I had a fairly good success rate given how little sleep I'd had in the last 48 hours. I credit Valencia's beauty completely.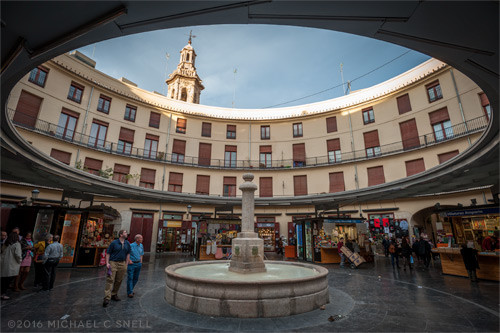 A quick stop for donuts and chocolate near Valencia's Round Square provided the energy to keep exploring.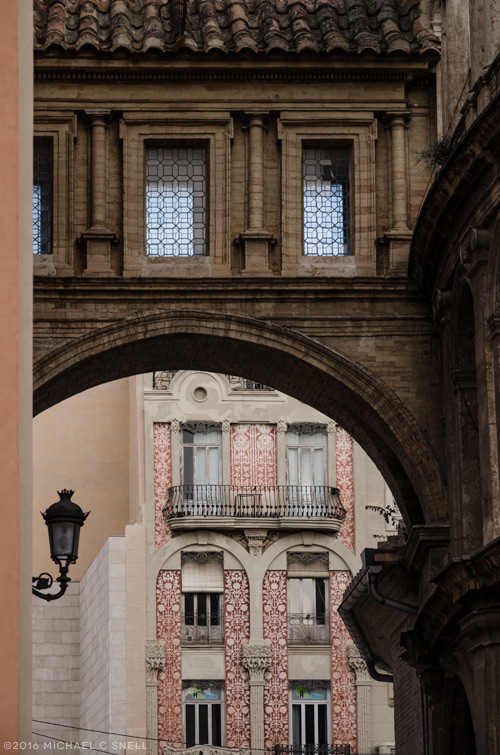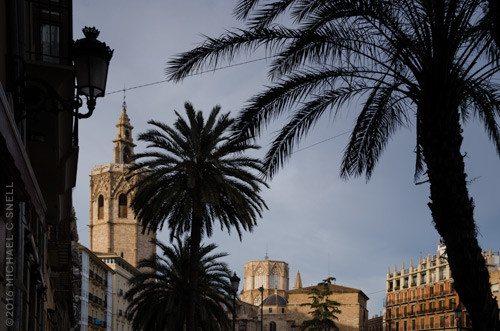 I arrived back at the room in time to drop off some gear before heading back out for dinner (for a first-time traveler to Spain, be forewarned that the evening meal starts very late and can finish up well after midnight). I played around by making more photographs from the hotel room window: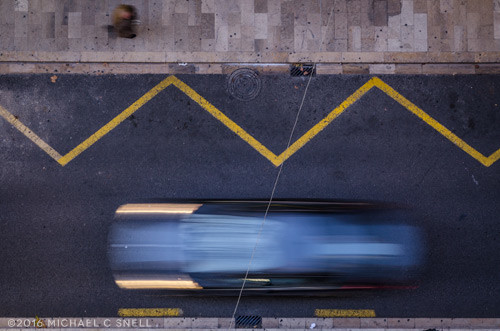 And I was eventually rewarded with a surprisingly brilliant sunset — one I hadn't really expected given the sky conditions earlier. By leaning out my window (don't you love hotels that don't have screens but do have operable windows!) I was able to achieve a nice view of this tower: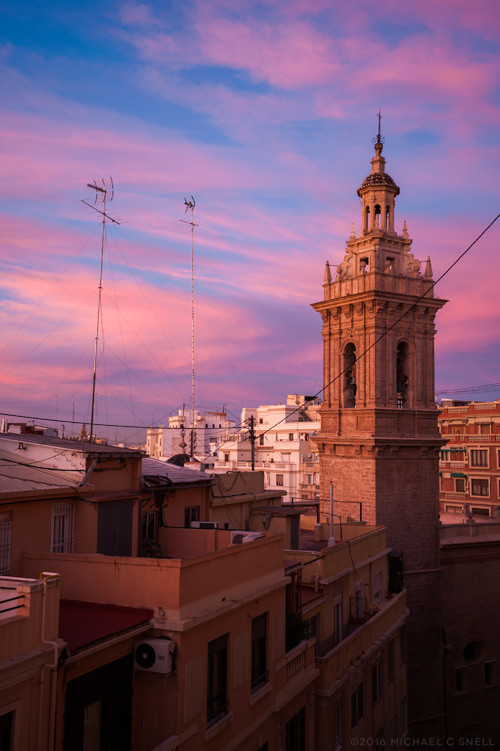 I usually try and make a point of not being stuck in the hotel at sunset, but it worked out fairly well for me this time as I don't think I could have seen this much sky from anywhere street-level in my new neighborhood.
The following day would be a big one with more exploration of the streets, a visit to the enormous city market, a paella-making class, and a bike tour. All coming up in future posts. Stay tuned…
Filed under: architecture, spain, travel
|
Closed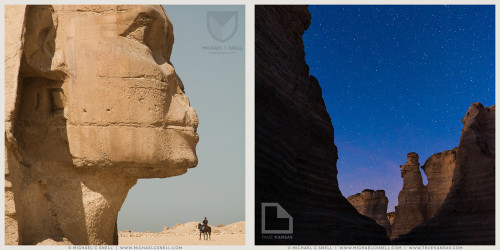 It's been a long while since I've posted here, but I promise I haven't been sleeping. Winters are generally quiet for me in terms of travel. It's a stretch of time I get to spend in the office, catching up, and making plans for the coming year. This year I've really been focused on my "brand" and how I communicate with all of you and those who follow me through social media. I've only dabbled in social media in the past, but I wanted to start this year with more of a plan.
For those of you who are interested, here is that plan — subject to change as it is implemented. This is partly an exercise for me, to put these thoughts down, but it might be interesting to other photographers to see my thinking process, and it may help others of you to decide on where you might want to follow me. Here goes…
The first part of my plan has just recently been rolled out. I now have two Instagram accounts for the two very different markets that I have for my work. My "travel photography," which is what I consider all of my out-of-state work to be, will be showcased on @michaelcsnell (see Sphinx image above left). My in-state, Kansas work — which is technically still travel-related but has a different market — will be featured on a new sub-brand of mine, @true_kansas (see night shot above right).
You may notice new watermarks on my Instagram images as well. That is also a part of this new, split-branding effort. I'll go through more of it in a future post, but basically I wanted individual logos and branding for my Kansas and non-Kansas work, without them looking like two completely separate entities.
Setting up two Instagram accounts may not seem like it would take my entire winter, but this is really phase one of a larger effort. More elements will emerge over the coming weeks and months. And I will still be posting here, but I'm outlining specific kinds of information that I'll be sharing through each of my online channels. Here's a rough outline as I see it now:
Michael C. Snell Travel Photography:
My existing website ( michaelcsnell.com ) will be the primary hub for all of my non-Kansas work. Updates are on the way that will tie in the new branding.
This blog will remain and will feature longer-format posts. Some of those will be day-by-day "diaries" of recent trips that I will post after returning home and as I'm doing post-production. I'll also post on equipment, software, travel and photography tips, etc. as I have done in the past.
Instagram ( @michaelcsnell ) will be an additional portfolio where I will try and share at least one photo each day from my archives — "latergrams," if you will. But, when I'm on the road and internet connections permit, I plan on doing "live feeds" where my daily posts will be images made that day or the day before. I'll bracket these with title images so that they will stand out in my feed. The first of these live feeds will begin at the end of this month, so stay tuned.
Facebook ( michaelcsnell ) will remain my personal page where I share more behind-the-scenes posts, shots from my iPhone, etc.
I may add Twitter ( @michaelcsnell ) to the mix although I don't ever see myself being a hardcore tweeter. I may use it to add some quick on-the-road photos but those will likely be immediately shared on my Facebook page as well. Twitter will also probably be the place I tend to share articles I run across, retweet things of interest, and so on. More of an aggregator than focusing purely on my work.
TrueKansas:
The website, TrueKansas.com , will be the primary hub for all of my Kansas work. In its current state, it is primarily a blog like this one that will focus solely on my Kansas images and happenings in Kansas. Print sales, stock licensing and future product roll-outs (books, notecards, etc.) will all be handled through that site. I use stock agencies to license most of my non-Kansas work, but I've found it to be better to market and license the bulk of my Kansas images directly. Information regarding that, or ordering personal prints, are on the TrueKansas site.
Instagram ( @true_kansas ) will also be a portfolio of "latergrams" from my archives. Occasionally a recently shot photo may appear, but I don't at this time plan on doing the live feeds like I will on @michaelcsnell
I have a page on Facebook ( https://www.facebook.com/truekansas ) that will echo some of the Instagram posts, will announce some of the blog postings on TrueKansas.com , and will feature other noteworthy Kansas items I run across. No Twitter feed is planned for TrueKansas so this will be more of the aggregator for this side of the business.
___
That's probably more than you wanted to know, but there it is. It's been quite a process for me to come to grips with how I want to use social media. Having been in a business based on protecting intellectual property, the move to an open and sharing business plan was daunting. I put a lot of thought into when I will and won't watermark, and how those watermarks would look so that they add to an image rather than detracting from it.
With just a couple of weeks to go before my 2016 travel schedule takes off, I'm really looking forward to beginning to work within this framework. To see what works and what doesn't, and to fine-tune the system where needed. I'd love to have you all join me. Please take a look at each of these outlets and I'd love it if you would follow me wherever you feel most interested. Thanks!
Filed under: Uncategorized
|
2

Comments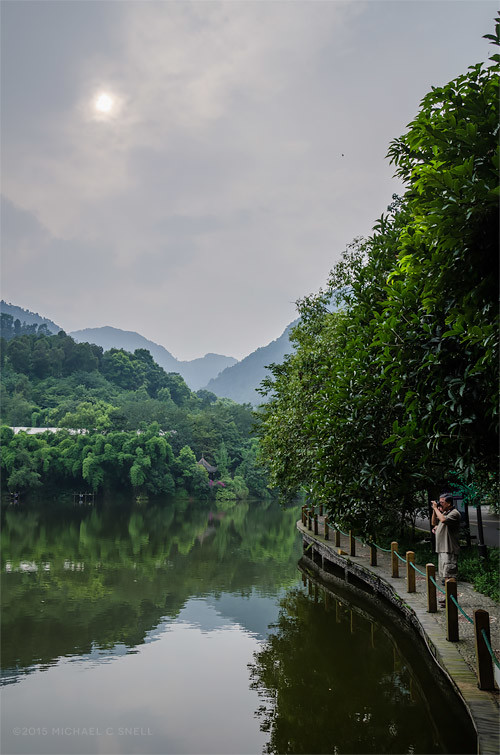 On my last day in China I awoke at the beautiful Emei Shan Hongzhushan Hotel located on this serene pond. After a quick breakfast we boarded a bus for the first leg of our journey up Mount Emei. The bus ride took hours, with two breaks: one presumably to use the restroom (but also to shop) and one to buy tickets for the next leg of the ride up the mountain.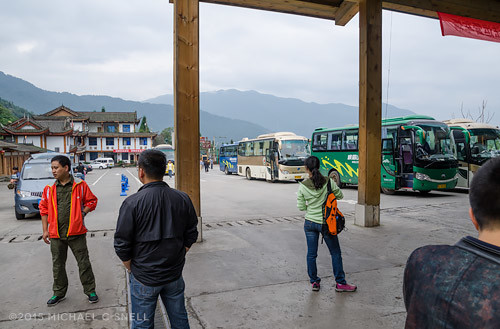 The ride was extremely winding and steep. A word of warning to those of you who might take this journey as well — they hand out "sick bags" on the bus for a reason. As the bus wound its way up the mountain, I saw several poor souls make use of theirs. Repeatedly. Thankfully I'm pretty resistant to motion sickness but I could certainly see where this ride could cause problems. The destination proved worthy of the suffering, however. (Easy to say when I wasn't the one suffering!)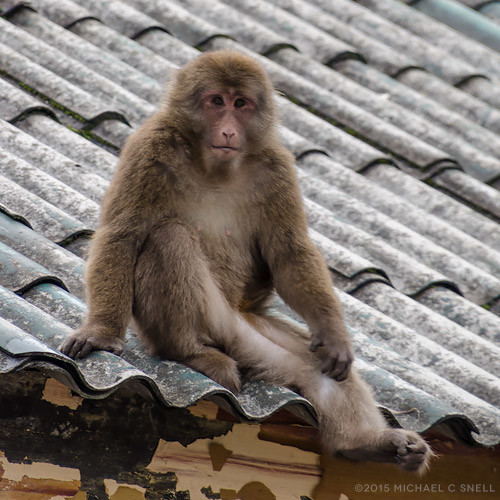 We'd been told the night before not to keep any food on our persons, or to even carry anything that would look like it might have food in it. The reason was the monkeys that frequented the final bus stop. One of the first women I saw get off the bus was carrying a plastic bag and — in no time — I saw it ripped from her hands by a monkey who immediately rummaged through it for a snack and off he went. They were staking out the place pretty good.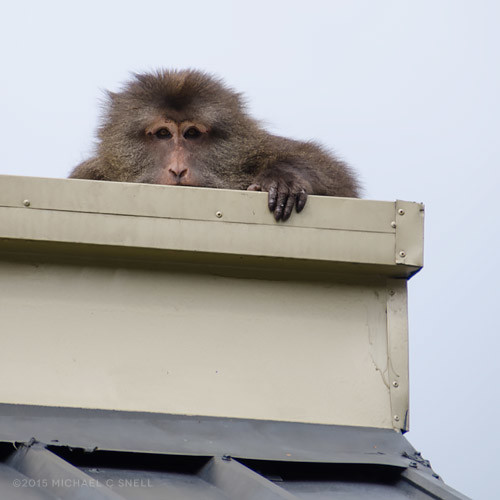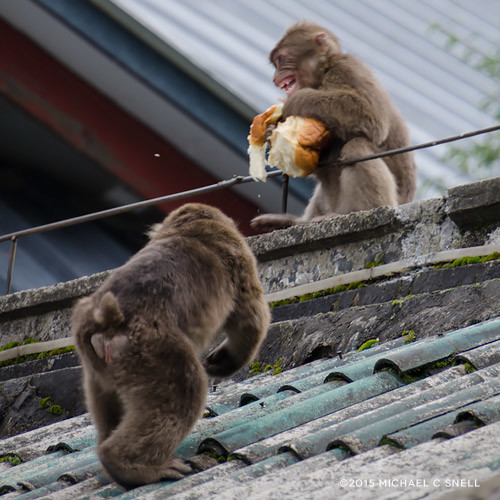 We were walking a steep path now, punctuated by worn, stone steps at irregular intervals. The monkeys gradually grew fewer and we could see our next mode of transportation in the distance through the low-hanging clouds — a small, 4-6 person cable car: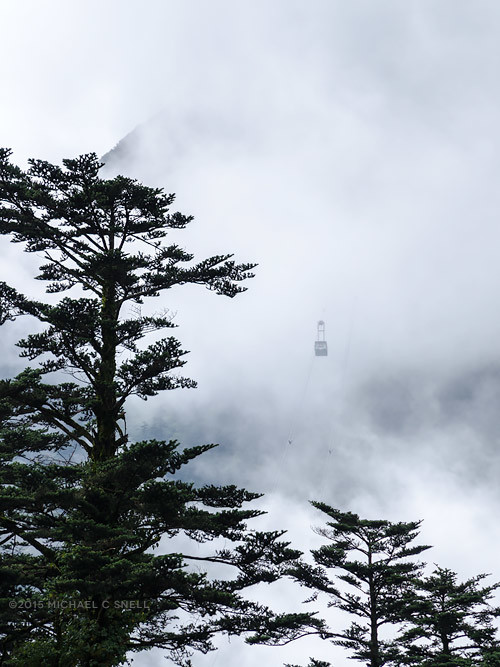 More tickets purchased, we were soon climbing swiftly through the mist in our cable car, looking back at what had been our most recent rest point:
We got off the cable car and started hiking upward again. We passed a few restaurants and souvenir booths and eventually came to the grand staircase flanked by white and gold elephant sculptures.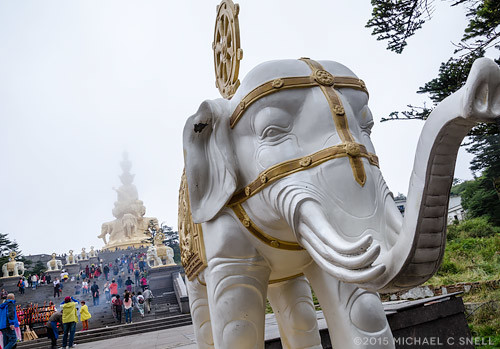 Incense and candles were being lit at various altars as we made our way up the steps in the thin, cool air.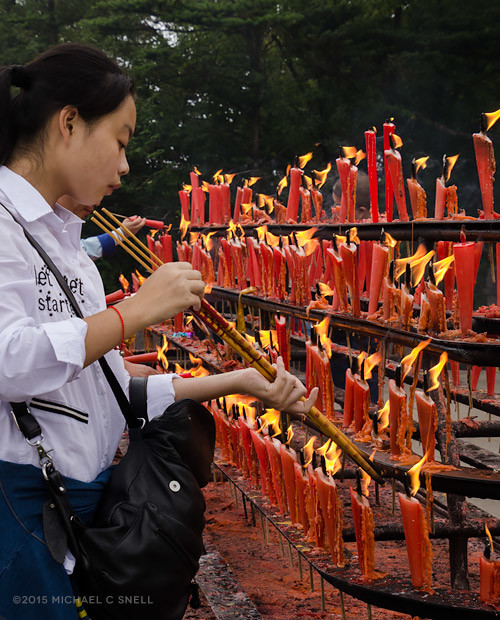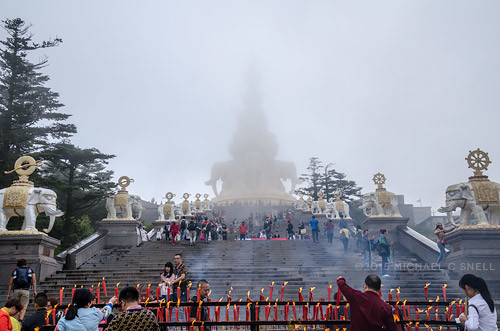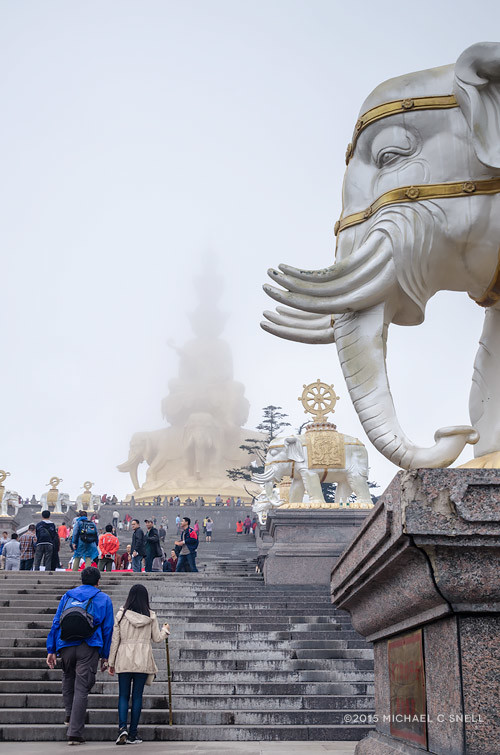 Finally at the top, we could finally make out the enormous, golden, chedi-like statue of Buddha sitting atop several elephants. I don't know how to describe it better than that, but it was spectacular. Golden temples surrounded it. I wish I could have photographed the interiors but it was not allowed to make images of the Buddhas within.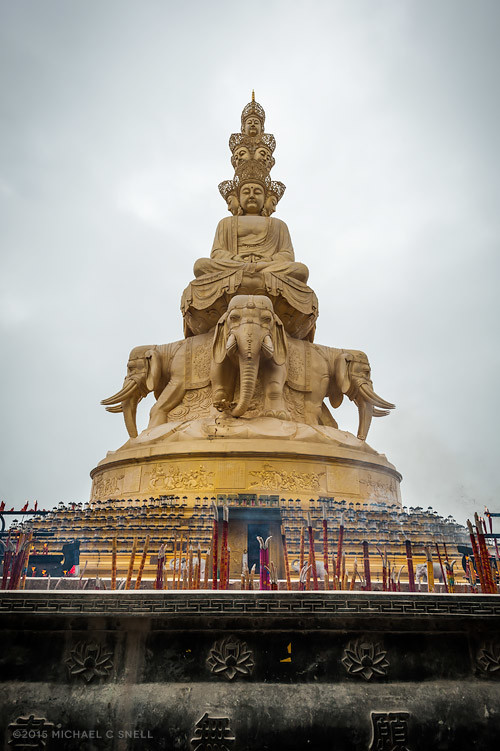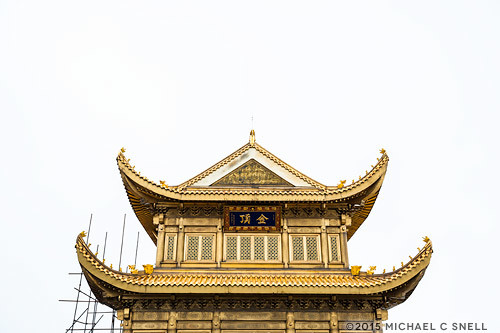 We paused to rest our legs and have some lunch from the snacks we'd picked up the day before in Leshan. I now understood why we needed wrapped and sealed items as they had successfully made it past the monkeys undetected.
Then, it was time to start back down the mountain. It was a shame that the low clouds prevented us from seeing what I'm sure was a stunning view from atop Mount Emei, but it's one more reason to return some day.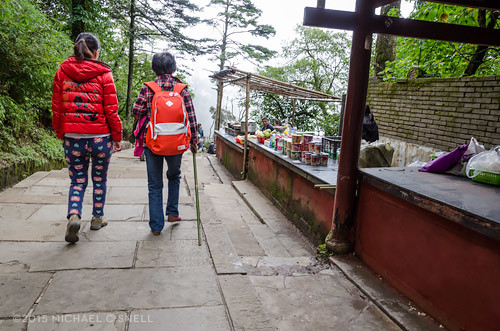 Above: we pass a few of the food stands that exist above the "monkey line" so that they aren't prone to raids.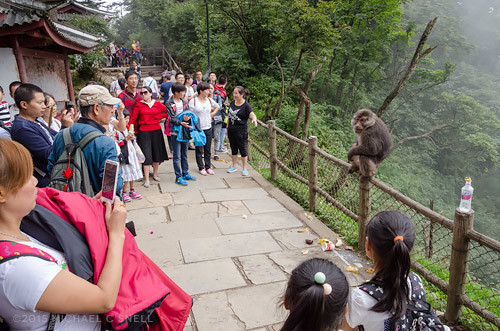 More monkeys awaited as we descended. This one had apparently had quite a good snack, judging by the mess on the ground around him.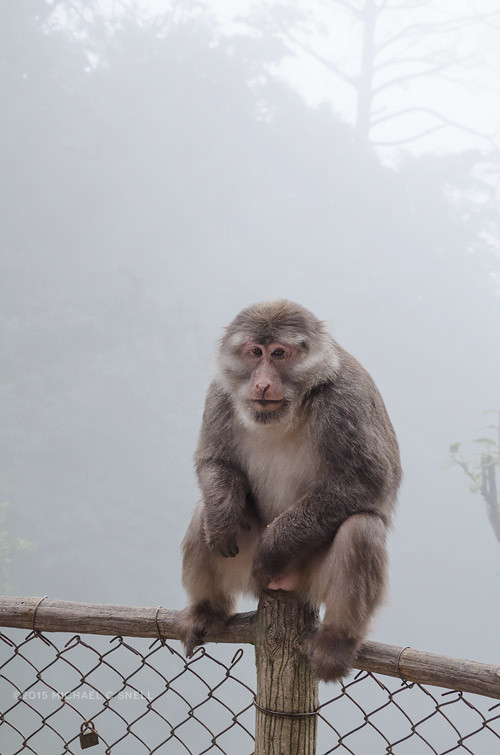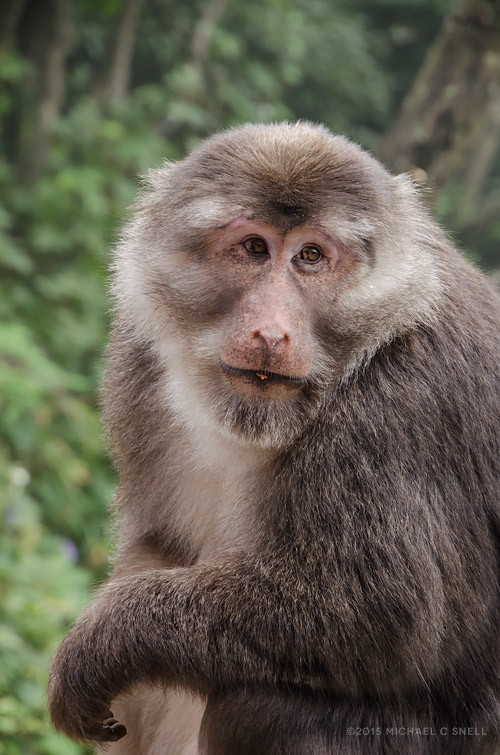 I bid farewell to the monkey, and the next morning I bid farewell to China. I look forward to the next time we meet.
Filed under: architecture, China, landscape, travel
|
Closed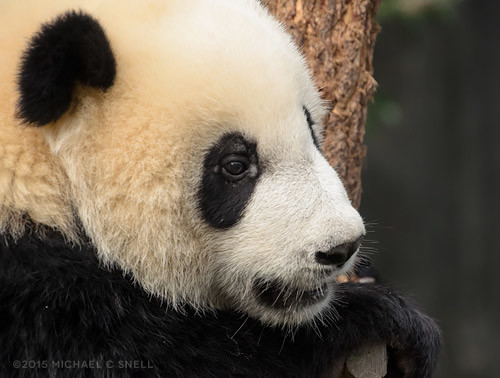 My next-to-last day in the Sichuan province of China was a big one. Giant, even. It started with a trip to Chengdu's Research Base of Giant Panda Breeding where I got to see everyone's favorite living plush dolls. The babies were especially cuddly, but were unfortunately kept behind glass and visitors were ushered past fairly quickly as they were being fed their breakfasts: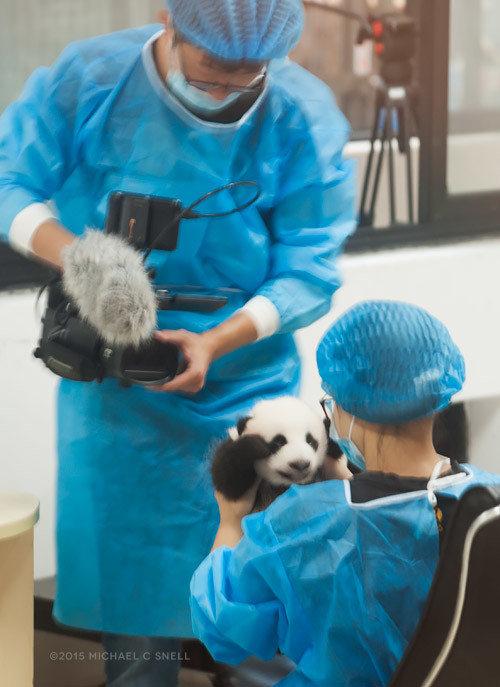 The bigger fellas were all busy eating or hanging out and napping in trees: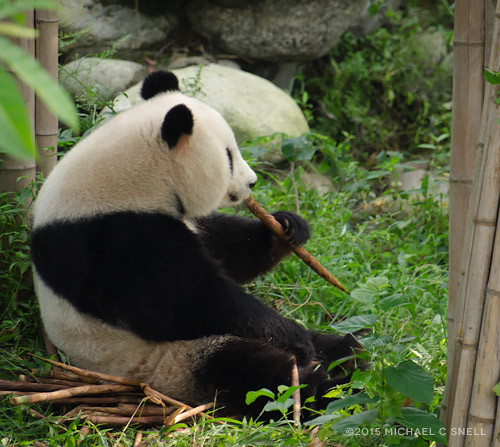 There were also Red Pandas in attendance: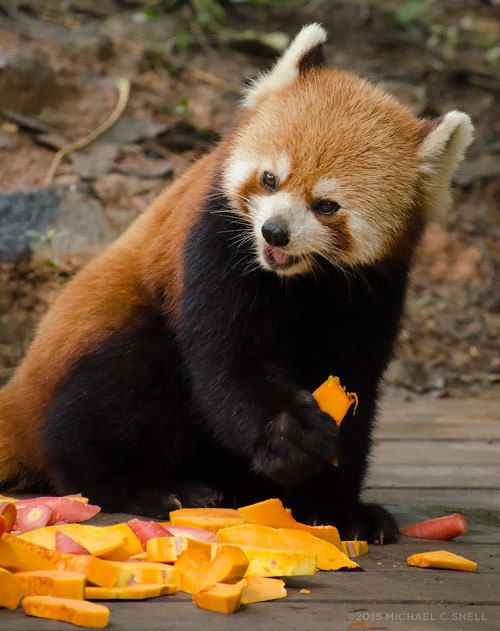 Hard to watch all those critters eat without getting a little famished yourself so, after a decent drive to Leshan, lunch was our first stop. We'd had a lot of buffet meals on this trip so it was nice to have a more traditional meal (although we still didn't order for ourselves — come to think of it — I don't think we ever did). Several items were brought out, including:
some kind of a hot bun filled with a melty, brown-sugary filling that was simply amazing,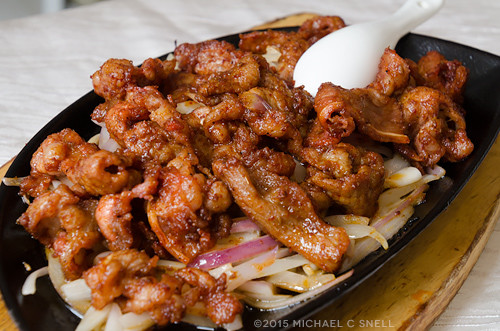 barbecued beef,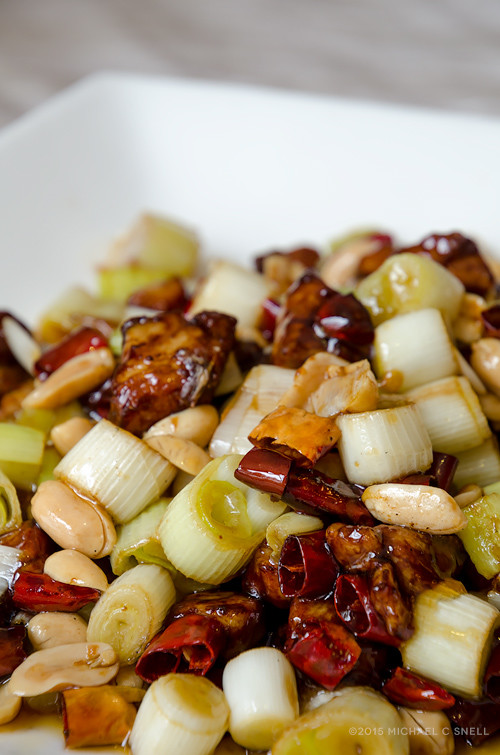 Kung Pao chicken (I was surprised to find out this was an actual thing in China and not an American invention akin to the fortune cookie),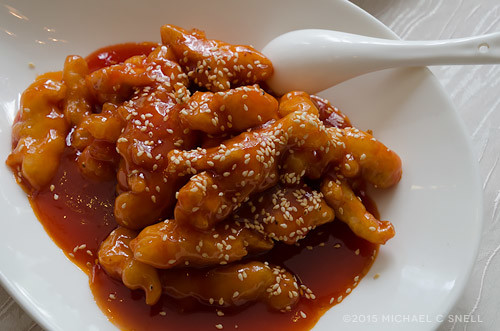 and a sweet and sour chicken that was much more complex than anything I've ever encountered in a Chinese restaurant in the States. I think this may have been my favorite meal of the trip and I stuffed myself accordingly.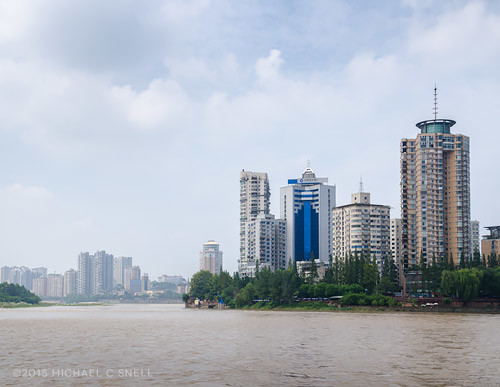 That's Leshan, above. The restaurant where we ate was just about on the right edge of the frame in this photo, overlooking the river.
We were in Leshan to see the 233-foot-tall Giant Buddha which, according to Wikipedia, "is the largest stone Buddha in the world and it is by far the tallest pre-modern statue in the world." The Buddha is carved from a cliff overlooking the river on the far side from the city of Leshan. To view it, we would take a tourist boat out. The boats make a quick pass down-river, then come back up where they take a position just across from the Buddha so that tourists can have their photos taken with the Buddha in the background.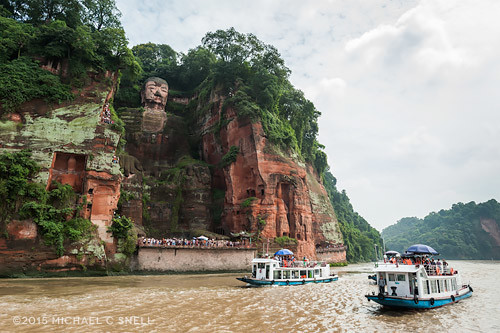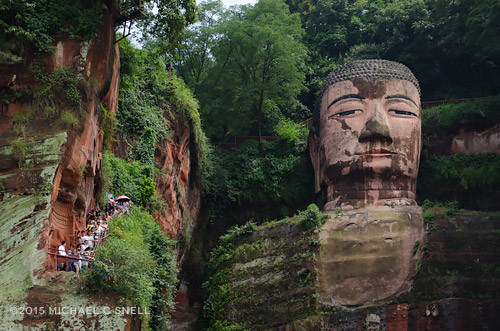 If I ever get back to Leshan, I want to take the time to visit the Giant Buddha from land and explore the trails and stairs that encircle him. This time the river view would have to do, though, and I think it was a good way to take in the scale for a first visit.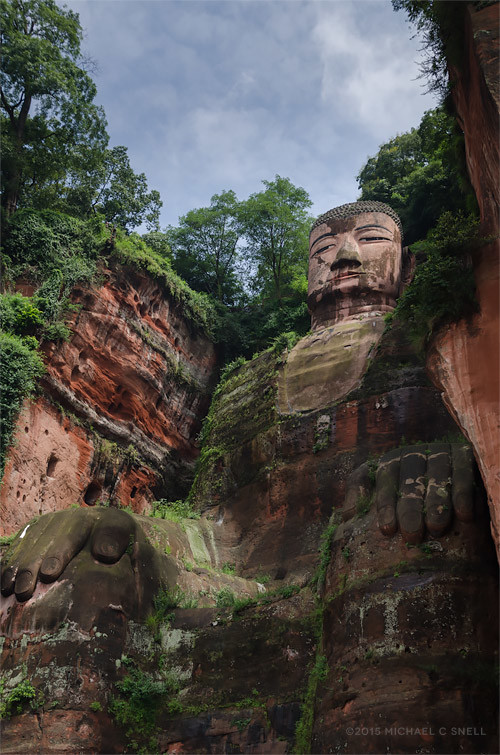 Boating back to Leshan: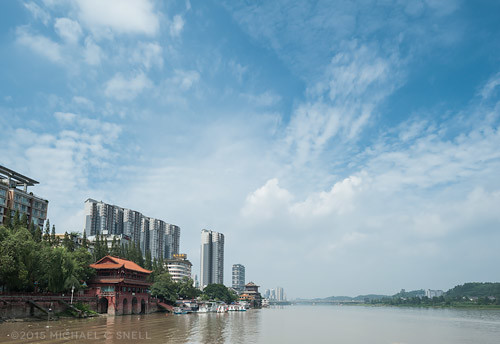 From here we would be heading for Mount Emei, the highest of the Four Sacred Buddhist Mountains of China. We'd be staying in a hotel at the base, but spending the better part of our last day in China making our way to the top. Before leaving Leshan, we visited the markets to lay in a supply of snacks for our hike: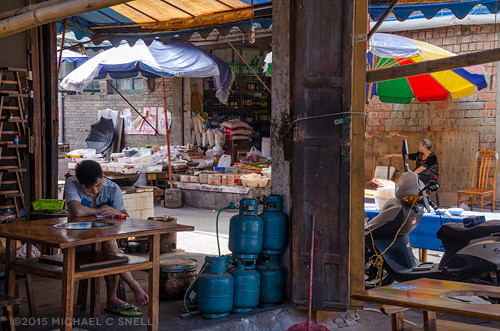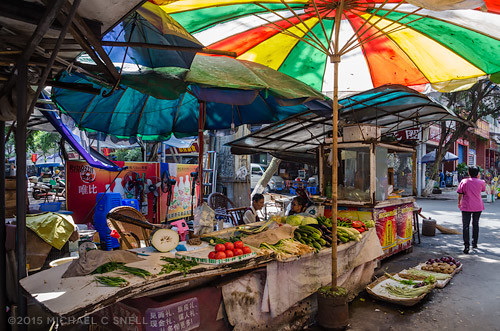 I love markets like this and especially enjoyed seeing this man with his bicycle modified to haul an oven for roasting sweet potatoes on the back: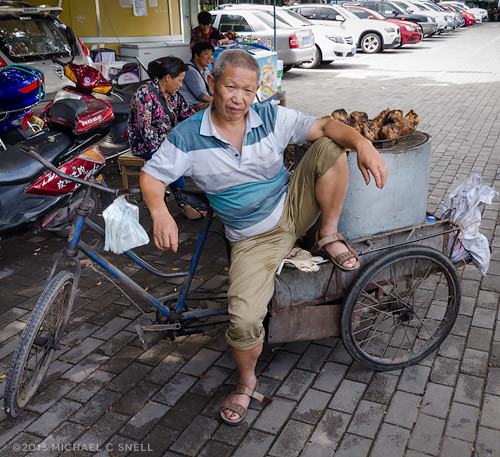 One more day in China, and it would be another big one.
Filed under: China, food, landscape, monument, skyline, tourism, travel
|
Closed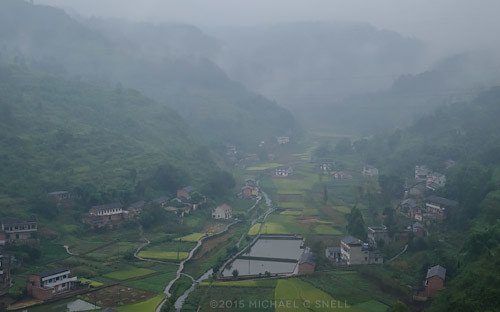 It rained during most of the bus ride from Yibin back to Chengdu, China. The low-hanging clouds made for a beautiful effect as we crossed valley after valley.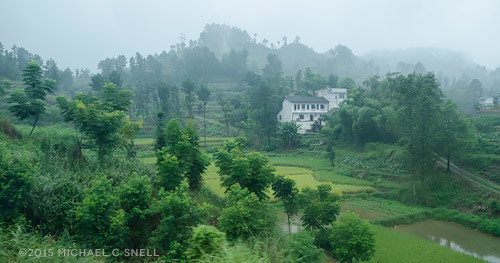 Once back in Chengdu, three of us said goodbye to our bus and the large tourism festival group and joined our local guide for a walk through an area known as the Wide and Narrow Lanes.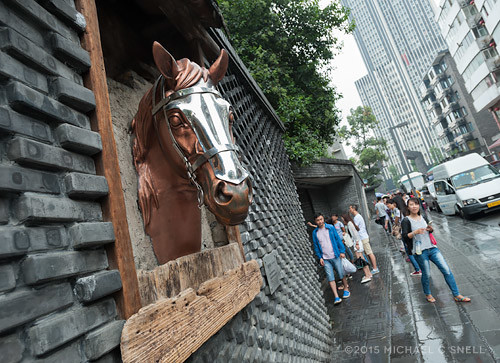 Throughout this area, sculptural vignettes told the story of what had been here in the past.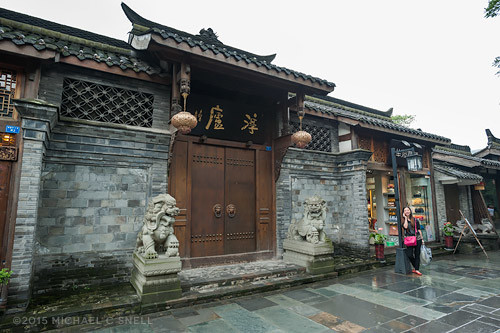 The area reminded me of Jinli Ancient Street, which we had seen on our first day in Chengdu, but it was a little more open, less crowded, and a bit less touristy (although it obviously still catered to tourists).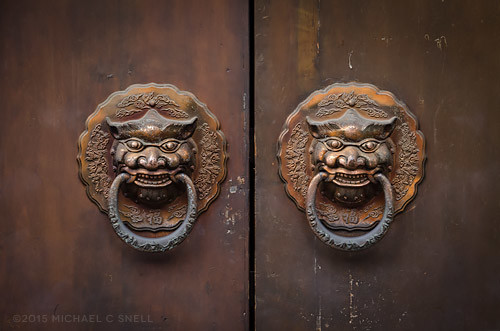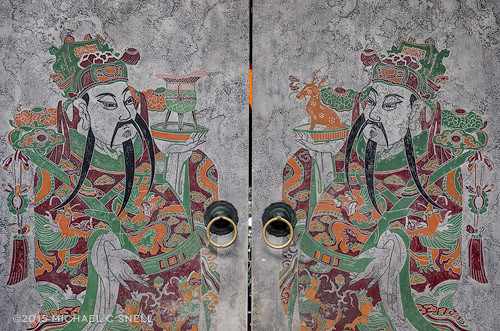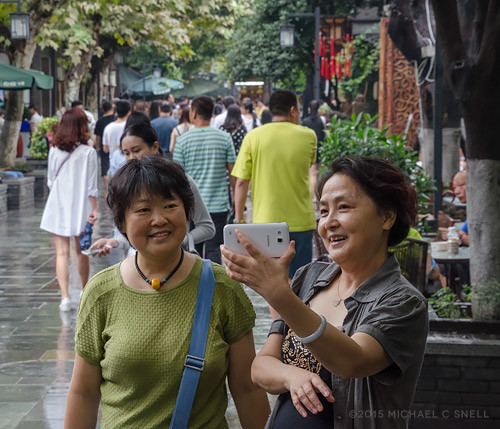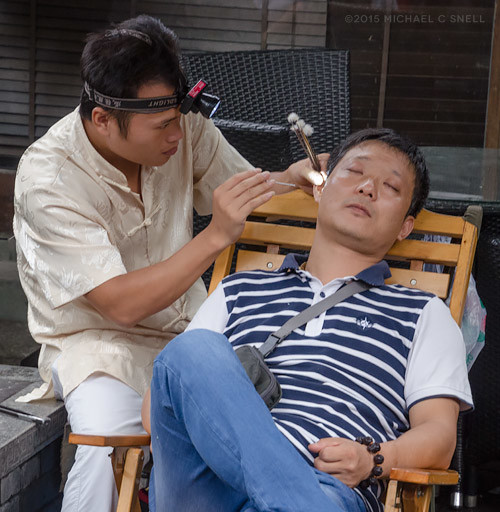 I had heard about these ear-cleaning — or ear massage — stations but this was the first one I'd actually run across. A little disconcerting to have wires and brushes twirled around in your ear perhaps, but the customers looked happy enough.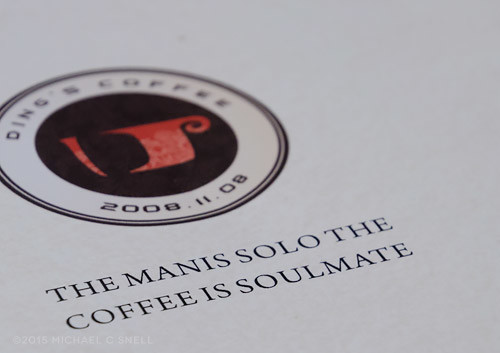 Time for a short refreshment break at Ding's Coffee, overlooking a street with a photography exhibit on display.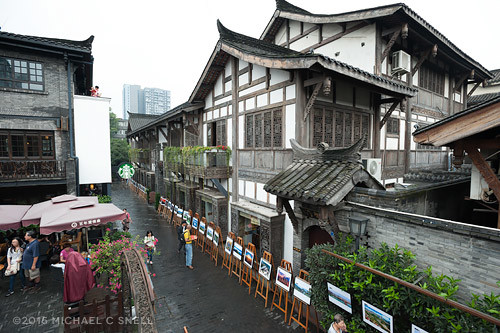 And everywhere you turned, more snacks. Of all varieties.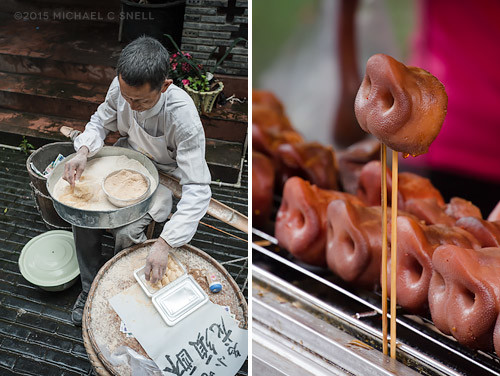 Filed under: China, food, landscape, tourism, travel, weather
|
Closed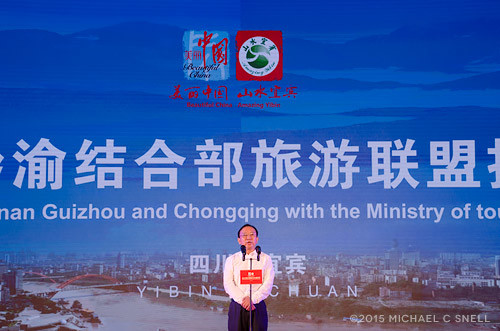 The day following our bamboo forest adventure was the actual opening ceremony of the 2015 Sichuan International Cultural Tourism Festival in Yibin, China. That meant less touring and more — what else? — live performances. Here are a few photos from the event.
Photographing it was a bit of a challenge since the backdrop was one of the largest flat panel video displays that I have ever seen. At times the pixel grid would line up with my sensor grid and I'd get some crazy moire patterns. Even more issues would appear when I'd preview images on my camera's screen, because I then added another pixel grid into the equation. In the end, I experimented with shutter speeds and shallow depth of field to try and de-emphasize the backdrop as much as possible.
This would actually be my last day as a part of the official tourism festival but I would stay on a couple more days to see some other parts of Sichuan Province. I'll cover those explorations in the coming posts.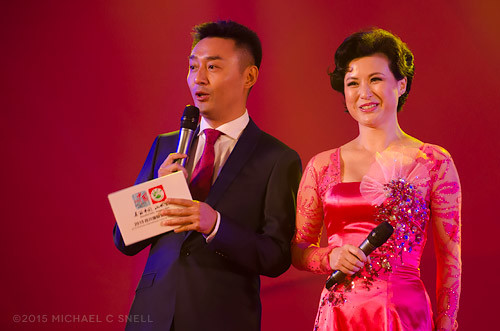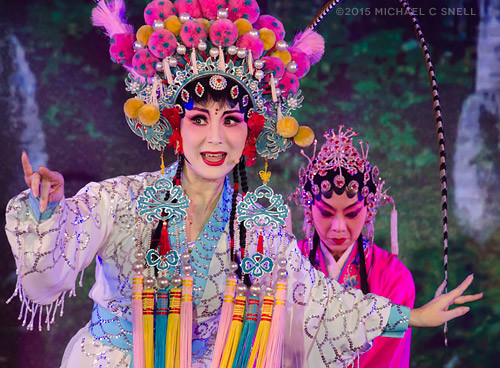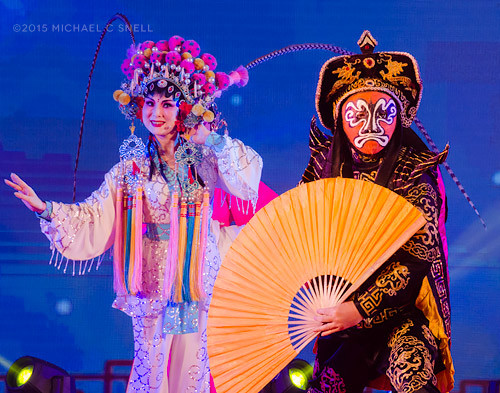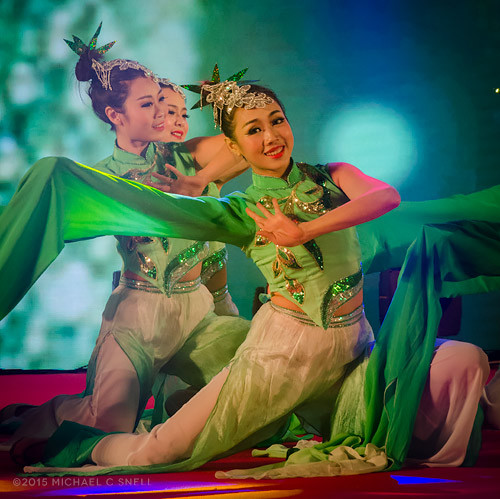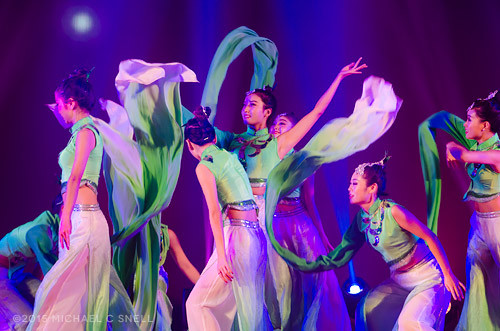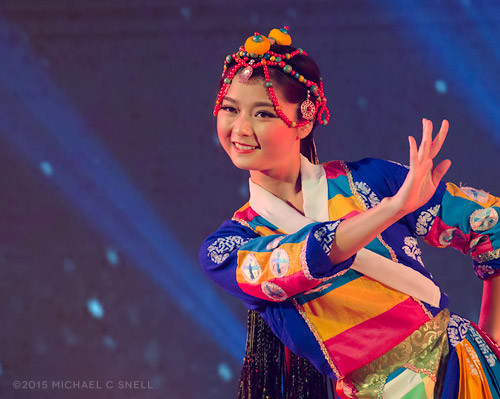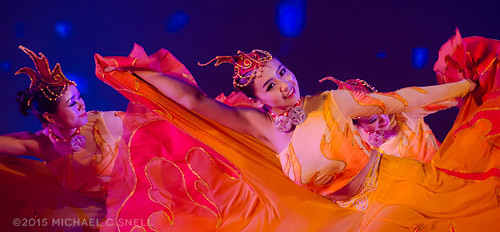 Filed under: action, China, color, motion, performance, photography, technique, travel
|
Closed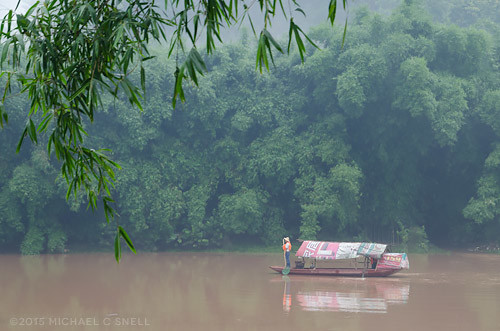 The drive to the bamboo forest in China's Sichuan Province was another long one. Our bus convoy took one break — dropping us off at a highway rest area — so that they could go refill their gas tanks. It seemed a bit odd that they hadn't gassed up before picking us all up, but it was a good chance to stretch my legs and get a few photos like the one of the river above and this one of one of our omnipresent traffic police:
I often wondered just how many of these guys were posted for us — or were there maybe just a few that kept scooting ahead of us to be waiting at the next stop?
Eventually we arrived at the bamboo forest (famous as one of the locations used in the film "Crouching Tiger, Hidden Dragon") but the tour was once again very rushed due to the long drive times. We moved through this first set of trails very quickly. I would have loved to have spent more time and explored further, but this glimpse would have to do for now.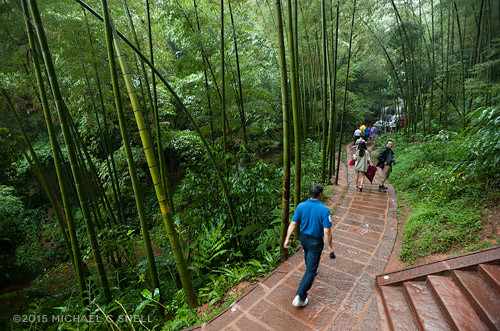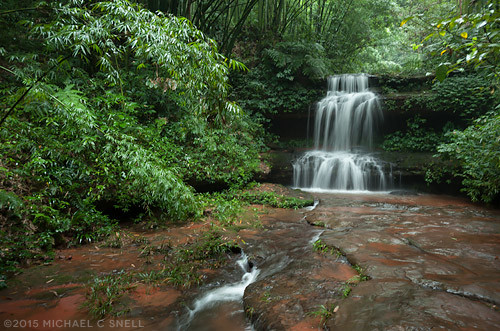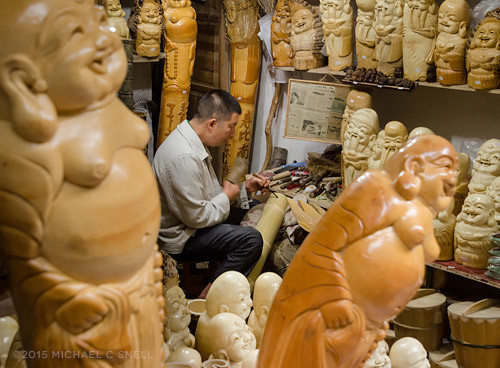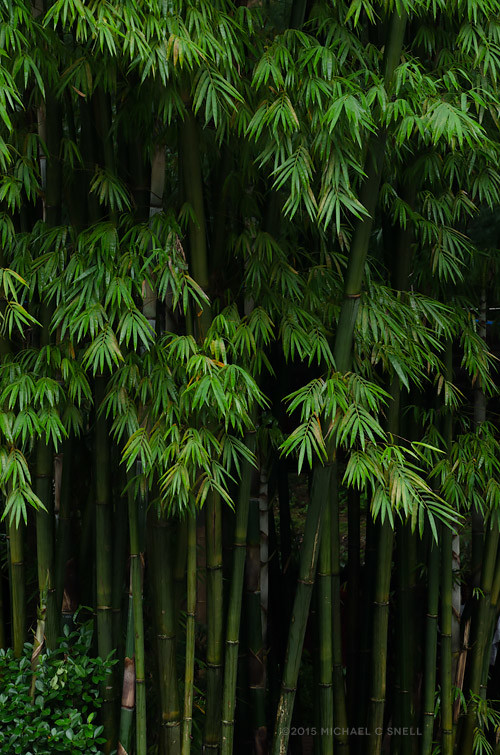 It was beginning to rain a bit harder when we made our second stop, but the bamboo forest just seemed to get more beautiful the wetter it became.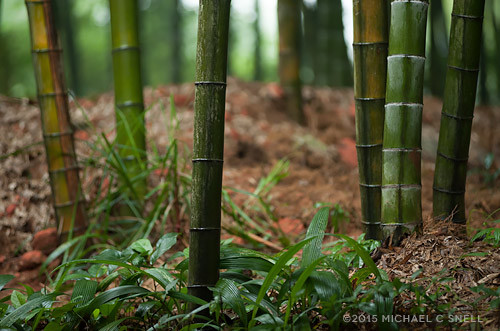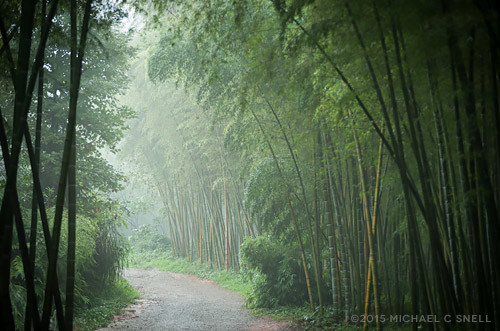 Back on the buses, we made the long drive back to Yibin. I'll leave you with one more shot from my hotel room window, showing the variety of architecture that filled the skyline: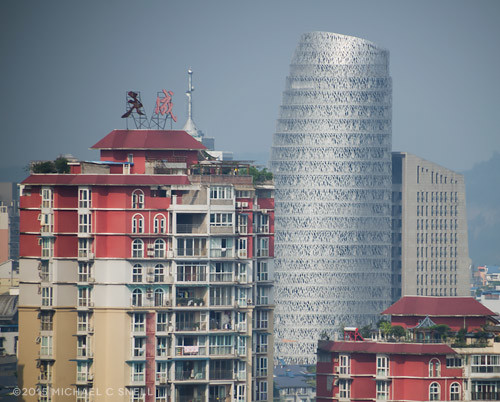 Filed under: architecture, China, landscape, travel, weather
|
1

Comment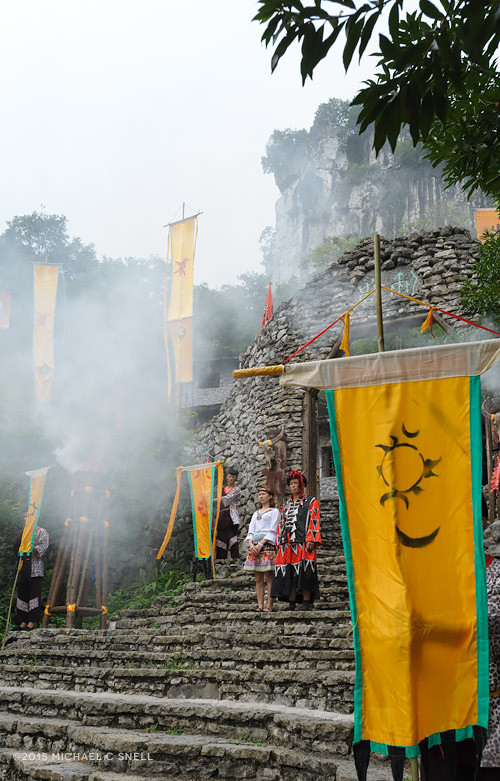 Next stop, the Stone Sea — a strange collection of rock formations, surrounded by a stunning landscape — and a quick visit to a Bo village re-creation in the same park. We must have been running late at this point because the pace of the tour kept increasing until it was mostly "drive-by tourism" from our little open-air shuttles.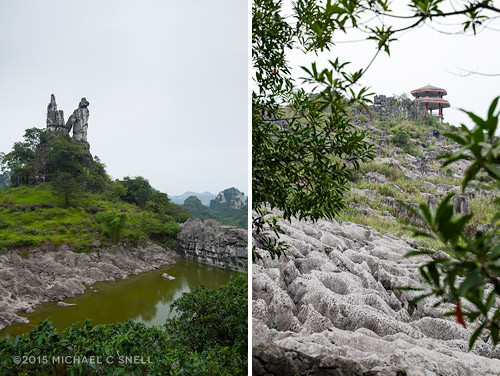 Finally off the shuttles, we took a glass elevator down the side of a cliff to arrive here: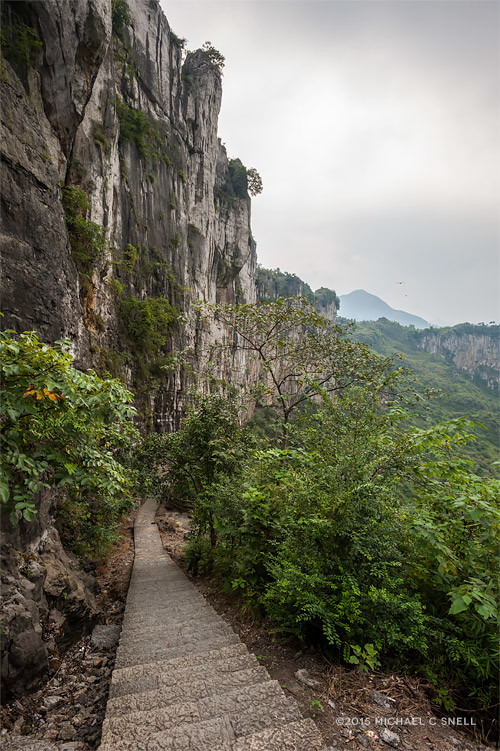 We didn't take this trail, but instead entered the cliff that we had just come down and found ourselves in one of the larger caves I've seen: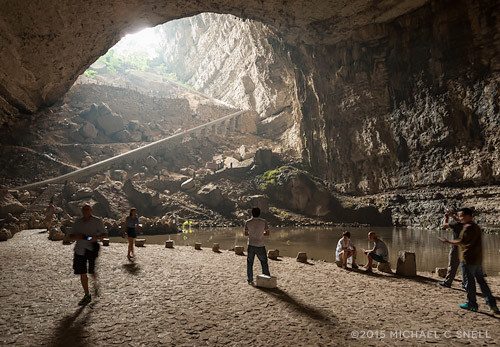 That's looking back toward the entrance once I had finally arrived to a flat surface again. Not until I was half-way down did I realize that I could have slid down that giant, two-segment ramp that you see in the distance. Visitors were given a rugged wrap to sit on before they were sent zipping down the polished trough to the bottom of the cave. Once there, of course, there were more laser lights: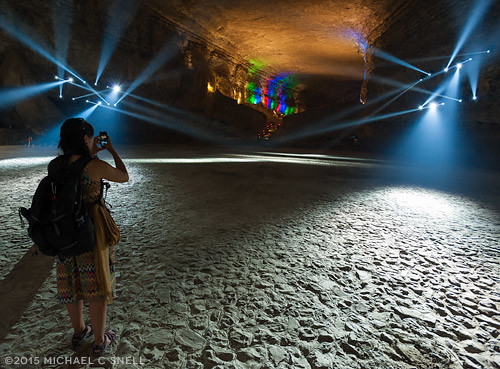 Thankfully, after that long descent, we learned that this would be a one-way, "through-hike" and we wouldn't be retracing our steps back up the entrance. However, that did not mean that this would be a short trek. This was one large cave: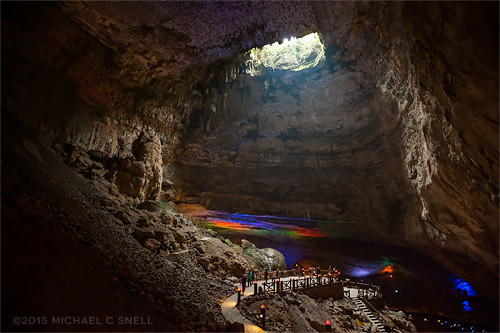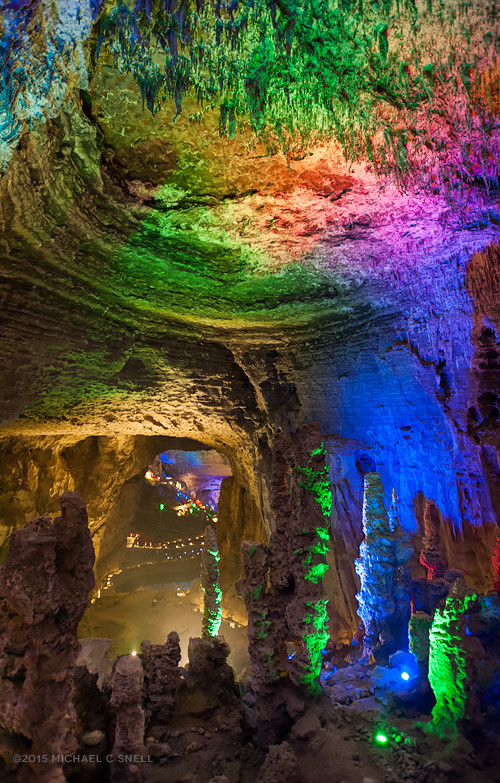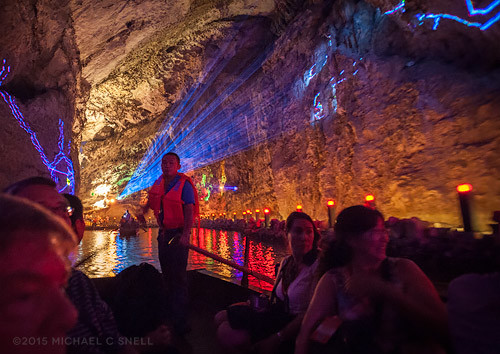 We eventually boarded small boats to ride the rest of the way to the cave's exit — which turned out to be the very cave where we had had lunch! We had basically made our way through a mountain to arrive back where we had started.
Back to the buses, and back to Yibin. Time to rest up for another big day tomorrow, when we would visit the bamboo forests used in the filming of Crouching Tiger, Hidden Dragon.
Filed under: cave, China, landscape, travel
|
Closed